Viennapoly
"If you can dream it, you can do it." (Zitat: Walt Disney)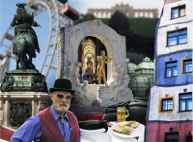 Sights, Seeing and Teambuilding
Explore the city with your own personal "road book". Well motivated and with a good sense of humour guests will follow the trail to the individual "acts".
Participating is more important than winning! There's more to Vienna!
Take your time to discover it! Vienna waits for you.
Experience the city's secrets and its past. See its many different aspects, encounter its entertainment and cultural delights with professional actors, gain new insights and take on new outlooks. And: be sure to come back with many right answers.
Vienna takes centre stage!
… and ICU sets the scene for an amusing game of discovery and sportive activity.